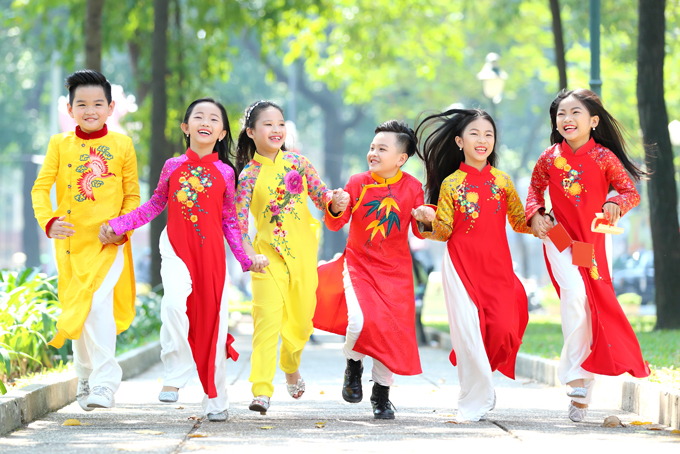 Tet holiday in Vietnam, also known as Tết Nguyên Đán, Tết Ta, Tết Cổ Truyền, is the Vietnamese Lunar New Year. It is the most special holiday of the year for the Vietnamese to reunite with their family and welcome the arrival of Spring.
During this special occasion, we do a lot of activities to celebrate Tet.
We buy new things, clean and decorate the house, give and receive lucky money (lì xì in Vietnamese), cook Banh Chung, Banh Tet, and visit friends.
It's also time for us to share a thousand things that happened the previous year, and wishing the best of luck to each other to begin a good new year ahead.
More importantly, the lunar new year is time for home sweet home. If Christmas is the moment for families in countries in Europe and the Americas, we have Tet holiday in Vietnam.
It will be not fulfilled if we are not together with family in this time. No matter who we are, where we go, how busy we have been, we need to come home for family and for the Spring festival.
Last but not least, Tet holiday in Vietnam is also an opportunity for us to remember and show respect for our ancestors, which is a very important principle of Vietnamese culture and Vietnamese values.
Even though we start to prepare and celebrate Tet from around the last 7 or 8 days of the old year, the Vietnamese lunar new year officially starts from the first day of the lunar calendar.
Depending on each year, Tet holiday in Vietnam will be in January or February of the solar calendar. From 2019 to 2022, it has fallen on the following dates, for instance:
2019: it was on February 5

2020: it was on January 25

2021: it was on February 12

2022: it will be on February 1
So next year, we are going to welcome Tet on 1st February 2022.
If you are a big fan of discovering the rich culture and diverse traditions, you should plan from now on to be there to experience the most special festival in Vietnam (if the country recovers from Covid-19 soon and opens its border to welcome you)
How long does Tet holiday last?
Officially, the Tet holiday in Vietnam is only in 3 days beginning from the first day of the lunar calendar.
However, the majority of Vietnamese people celebrate it longer. Therefore, the entire annual Lunar New Year holiday usually lasts from the last 7 days of the old year to the first 7 days of the new year (December 23 to January 7).
So, the duration of the Tet holiday approximately is about two weeks in total. But if someone wants to enjoy Tet more or less, they can definitely extend it or shorten it depending on their situation. 
What are the flowers of Tet?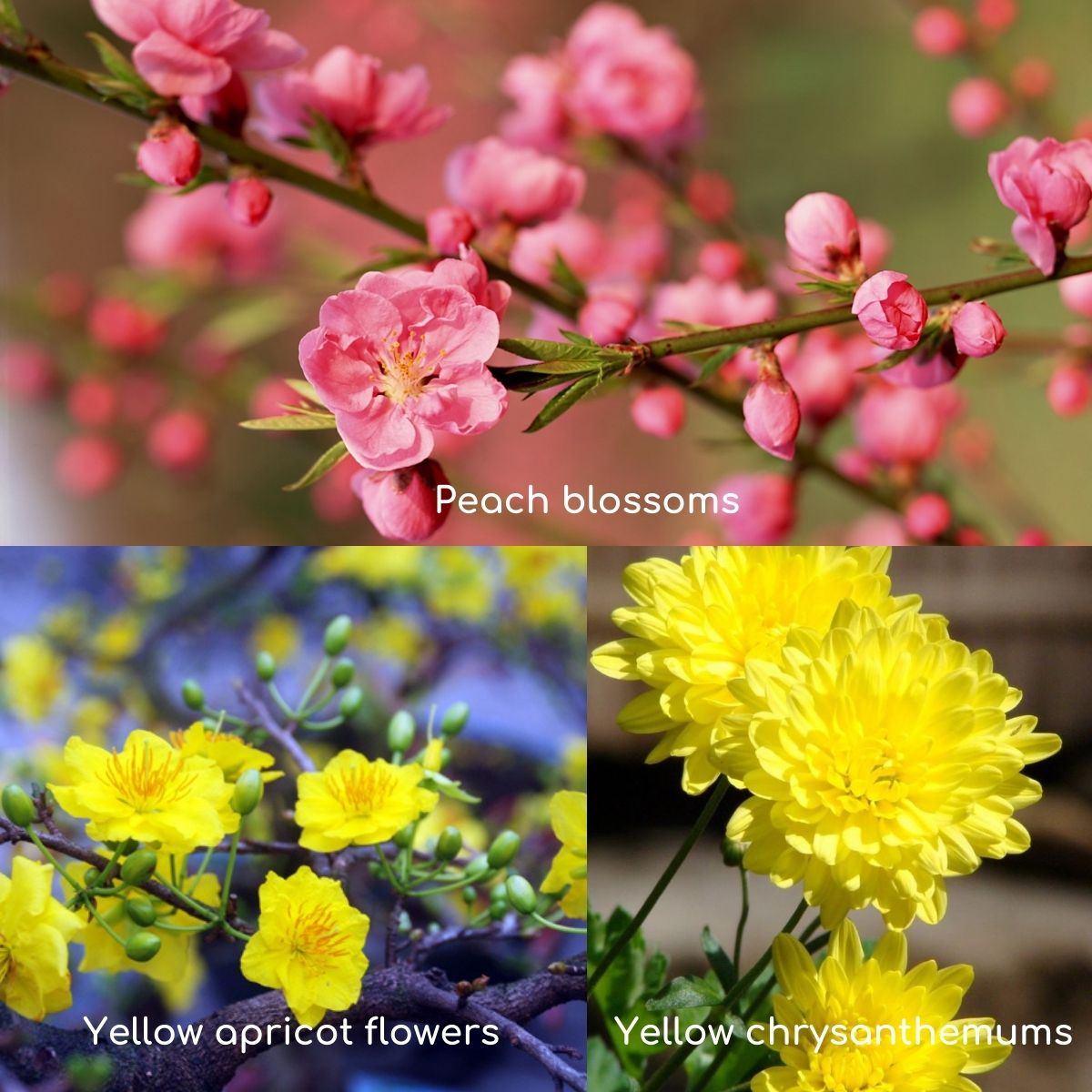 On Tet holiday, many different flowers dance with the wind and proudly show their beauty under sunlight.
However, there are 3 typical types of flowers that are indispensable on this special occasion. They are yellow apricot flowers (Hoa Mai Vàng), yellow chrysanthemum (Hoa Cúc Vàng), red or pink peach blossom (Hoa Đào).
Depending on different regions and areas, we have different tastes of flowers. Normally people in the South and Central like apricot blossoms and yellow chrysanthemums while our friends in the North are big fans of peach blossoms.
If you have a chance to go to Vietnam in the lunar new year, you will see a lot of these flowers inside and in front of almost every house.
Personally, I like this scene of Tet very much. Flowers cover every single corner from the house to the yard. Everyone tries to choose the most beautiful flower pot for their home. The smell of happiness is just everywhere.
What are the colors of Tet?
If red, green, white, and yellow are the typical colors of Christmas, the Vietnamese lunar new year also has its own color identity.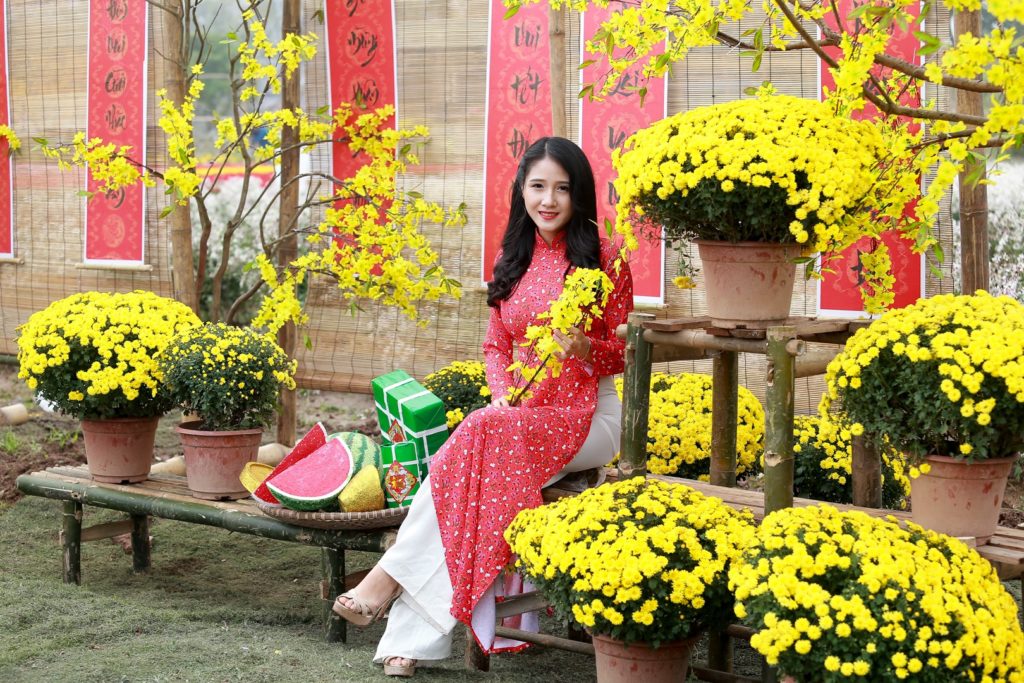 According to the beliefs of Vietnamese people, red is the color of luck. That's why you can see this color everywhere when Tet arrives.
From house decoration, envelopes for lucky money, flowers to clothes and accessories, we try to use this color as much as possible. Red is also considered auspicious, representing an increase in income and wealth.
In addition, the color of love also reflects a warm feeling, energetic mood and tone. Accordingly, it could make people around feel positive and passionate.
It's obviously appropriate with a joyful atmosphere on the Tet holidays as well as implying a good sign to start a new year.
Yellow – The color of prosperity
Yellow is also one of the popular colors in the traditional Tet holiday as it symbolizes peace, prosperity, a rich and full life.
Decorating the house with yellow flowers and wearing yellow clothes at the beginning of the year reflect positive energy and show a wish for a prosperous life.
During the Vietnamese lunar new year, you will see many artworks of gold nuggets, gold coins on the lucky money envelopes and decorative objects hanged on trees and flowers everywhere.
This expresses the owner's wish that they would like to have a year full of money and happiness.
Green – The color of rebirth and freshness
Along with red and yellow, green is one of the charming vedettes in the Vietnamese lunar new year.
Tet holiday in Vietnam is the moment to mark the arrival of the spring which is a special season filled with trees, flowers, and leaves sprouting.
Going through a cold and wet winter, spring with sunlight and warmer temperature stimulates buds to awaken after a long hibernation. Many flowers are also jubilantly blooming. All of them create a natural carpet of smooth green and full of freshness.
Apart from nature, green is easily found on the Banh Chung (Chung cake), Banh Tet (Tet cake), on the skin of watermelon, on the trays of other fruits and vegetables, etc. This color is everywhere!
Why is Tet holiday special to the Vietnamese?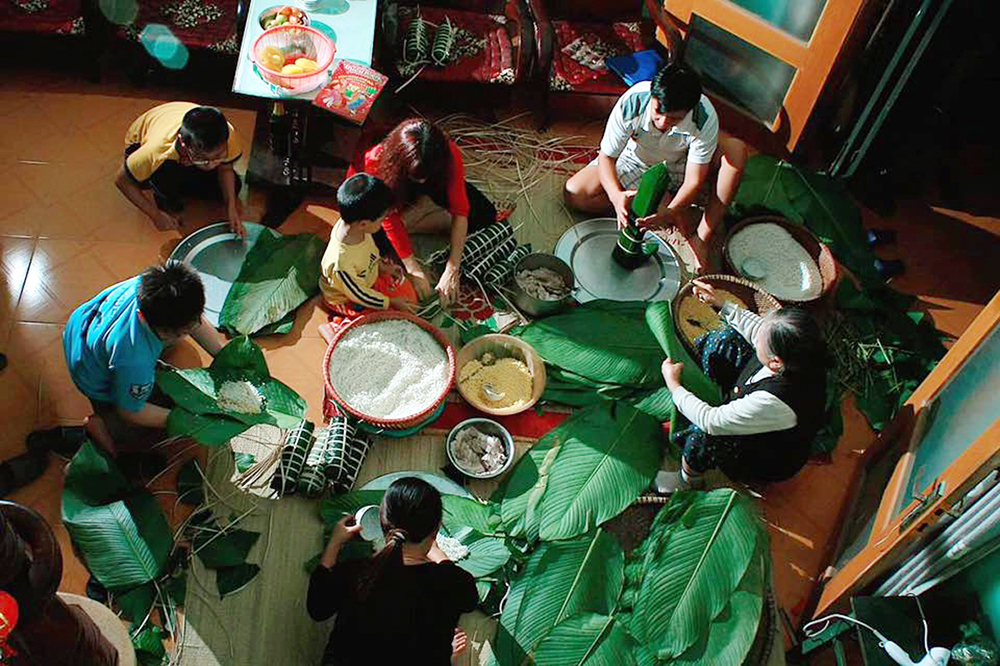 Tet holiday in Vietnam is the beginning of a new year, Vietnamese people assume that what happens in Tet could be a signal for the whole year.
That's why we try to make the Vietnamese lunar new year as great as possible so that we could have a new year full of luck and prosperity.
There is something common you could see Vietnamese people doing to have a great lunar new year.
We spend a lot of time cleaning the house to have better space, buying and displaying flowers around to have a better atmosphere, giving good wishes to each other for a lucky year, avoiding arguments or fights during the Tet holiday.
This occasion also marks the start of Spring where everything seems to be reborn and starts a new circle of life. From nature to people, all are full of vitality.
In addition, Tet is special because everyone can take a pause to live slower and enjoy traditional activities and lovely moments together.
They allow themselves to stop working hard and take a rest to welcome 365 new days ahead. They take their time to eat better food and buy new clothes for their children. They become relaxed and happier in Tet.
Last but not least, the lunar new year in Vietnam is far beyond a normal holiday. It is the moment for a reunion, for connection, and for expressing gratitude to family and ancestors. It is a traditional cultural beauty of Vietnamese people.
This is how I welcomed the Vietnamese lunar new year in France
For me, Tet is something very unique. Words cannot describe exactly how much I love Tet.
When I was living in Vietnam, I worked in Ho Chi Minh city and it's very far away from my hometown. That's why when this special holiday is about to come, I was eager to pack my valise to come home and just felf very happy.
I still remember the feeling when I was on a bus home, seeing everyone around was busy preparing for Tet, I couldn't wait to see my parents, to help them clean the house and cook Banh Tet. I could not hide my happiness and whisper some melodies:
"I'm coming home, I'm coming home, Tell the world I'm coming home"
Now I am even further away from my hometown for Tet. It's already been 3 times that I could not celebrate the Vietnamese lunar new year with my family in Vietnam since I came to France for my studies. Under the pandemic context, it's complicated to come back to Vietnam whenever I want.
But it doesn't mean I don't have Tet.
From France, Vietnamese friends shared with me pictures of how they were preparing for Tet.
We also organize a small party to welcome the new year. My French friends also come and join this special tradition with me. I am very happy to introduce and include them in this special culture of Vietnam.
I hope that this article helps you get to know more about one of the most special traditions in Vietnam as well as bringing you a snapshot of our rich culture.
If you travel to my country on the Tet holiday, don't forget to try Banh Chung and Banh Tet, don't forget to take some pictures with apricot blossom, peach blossom, and chrysanthemum, and of course don't forget to celebrate it with Vietnamese people.
…..and don't forget to share with me your pictures in Vietnam.
I'm curious if you like Tet? Feel free to let me know your thoughts and don't hesitate to ask me if you have any questions.
Another article in the Vietnamese culture and traditions series will be published soon. So, stay tuned!
If you would like to stay updated with the latest content, ensure to subscribe to the AMA Vietnam blog today 🙂