Binh Dinh is my hometown. It's special to write about the place where I was born. Once I typed the very first words about this destination, so many beautiful and nostalgic memories flooded back in my mind.
Although Binh Dinh is bestowed by Mother Nature with its magnificent and wild beauty, previously, the province was not known that much for its amazing landscapes.
The nature here has not been explored. The great food, specialties, and culture haven't been discovered by many people.
Until the last 3-4 years, this land began to focus on tourism. The names "Binh Dinh"and "Quy Nhon" have a certain reputation nationwide and abroad. The most special thing about this place is that the beauty of nature is mostly untouched.
If you have a taste for discovering unspoiled landscapes, Binh Dinh is a must-visit place. In this article, I will walk you through the top 05 attractions you need to visit in Binh Dinh.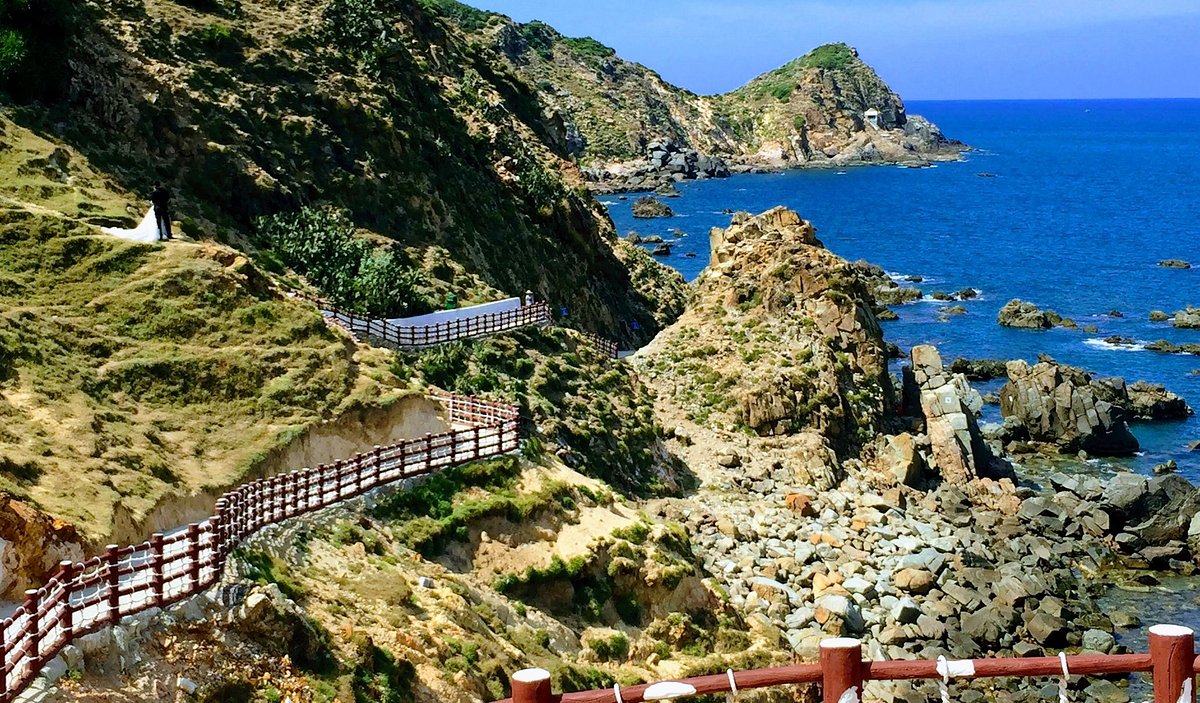 Eo Gio means "Strait of wind". The name Eo Gio originates from the geographical shape of this area. Standing from the surrounding cliffs looking down you will see a small strait covered by two mountain ranges like an embrace hugging a beautiful beach.
On a trip back to Vietnam last Feb, my partner and I had a chance to discover this beautiful place by motorbike.
From Quy Nhon, we needed to cross Thi Nai bridge which is the second-longest sea bridge in Vietnam. The wind was extremely strong and just wanted to blow us off the bridge. I was scared but also excited. Anyway, it's really a great experience.
The landscape on the way to Eo Gio looks wild with small sand dunes and rows of cactuses. It disconnected us from the hustle and bustle of urban life.
When we arrived, this place surprised us with the beautiful view of nature. The mountain hugs the sea, the waves like a shy girl gently rushing into the mountain, both wild and charming.
Beautiful corners of Eo Gio Quy Nhon
Following the special path which is along the sea and in the middle of the mountains, you can walk slowly to satisfy your senses with the fresh air, the smell of the sea, the cool wind, and the magnificent scenery of cliffs and clear blue ocean.
If you love nature, this place is a must-go. There are many beautiful corners for you to hunt awesome pictures. Also if you love seeing the dawn and dusk, you should be here. Eo Gio is known as the place to watch the most beautiful sunrise and sunset in Quy Nhon.
However, Eo Gio doesn't really have a flat beach to take sun bath or to chill. It's more about sightseeing and a slow walk around.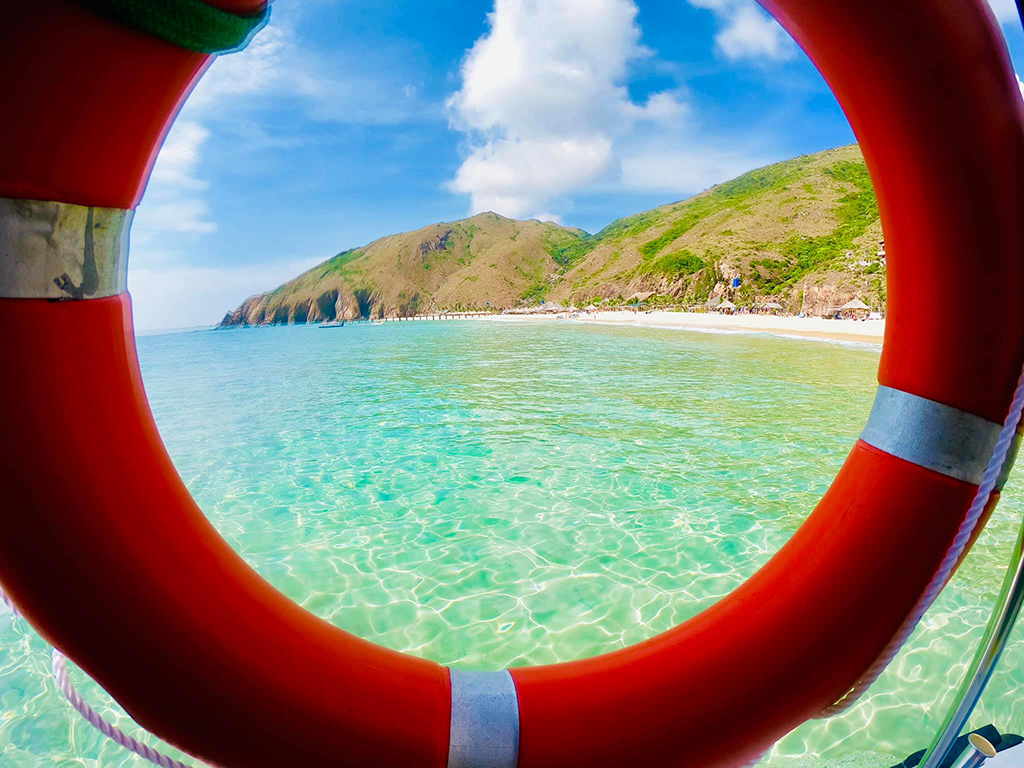 It would be a good idea to continue your amazing trip to Ky Co beach as it's not too far, just around 6 km from Eo Gio. I listed it in the top 5 attractions in Binh Dinh because of its awesome landscape.
Arriving in Ky Co, the first thing that impresses you is the wild beauty of the mountains and the freshness of the sea. One side is bordered by the sea and the other side is surrounded by mountains, giving Ky co a unique arc shape.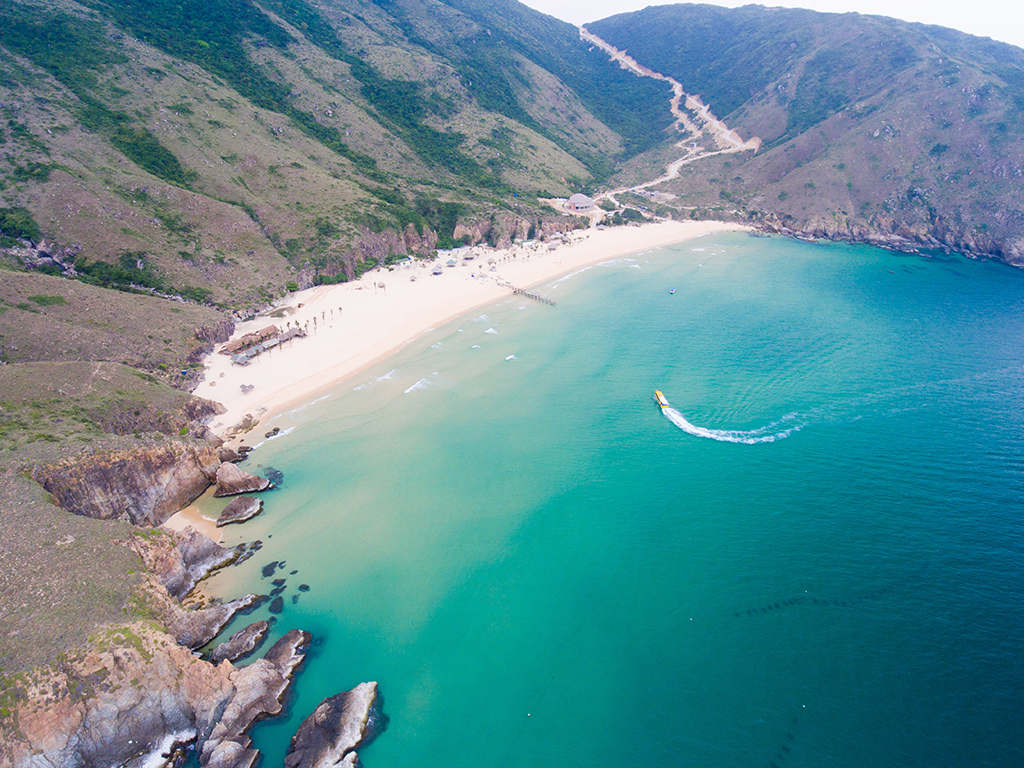 The whole structure of landscape here seem huge you in the arms of mother nature, isolates you from the busy life. If you would like to find a place where just you, nature, your thoughts, your feelings, Ky Co would be a great recommendation to help you make a pause and take a break.
In addition, the clear blue seawater is also very cool to swim in and enjoy other interesting activities such as diving to see the coral, parachute, jet ski, banana float, etc. If you have more time, it's a good idea to explore the mysterious caves.
Different from Eo Gio, Ky Co has clean and white sandy seashore. It is ideal for you to lie down, enjoy sunbathing, reading a book, and have a pleasant time with a fresh coconut.
Another plus point for Ky Co is delicious food. Fresh seafood is cooked while still alive to ensure freshness and juiciness. Some dishes that you should not miss such as urchin, snail, or abalone. You might pay a higher price here but it's still affordable.
However, this place is small and still not fully invested in tourism, it just takes you one day to discover all. There's not a lot of activities at night. I would recommend you to visit Ky Co beach during the daytime.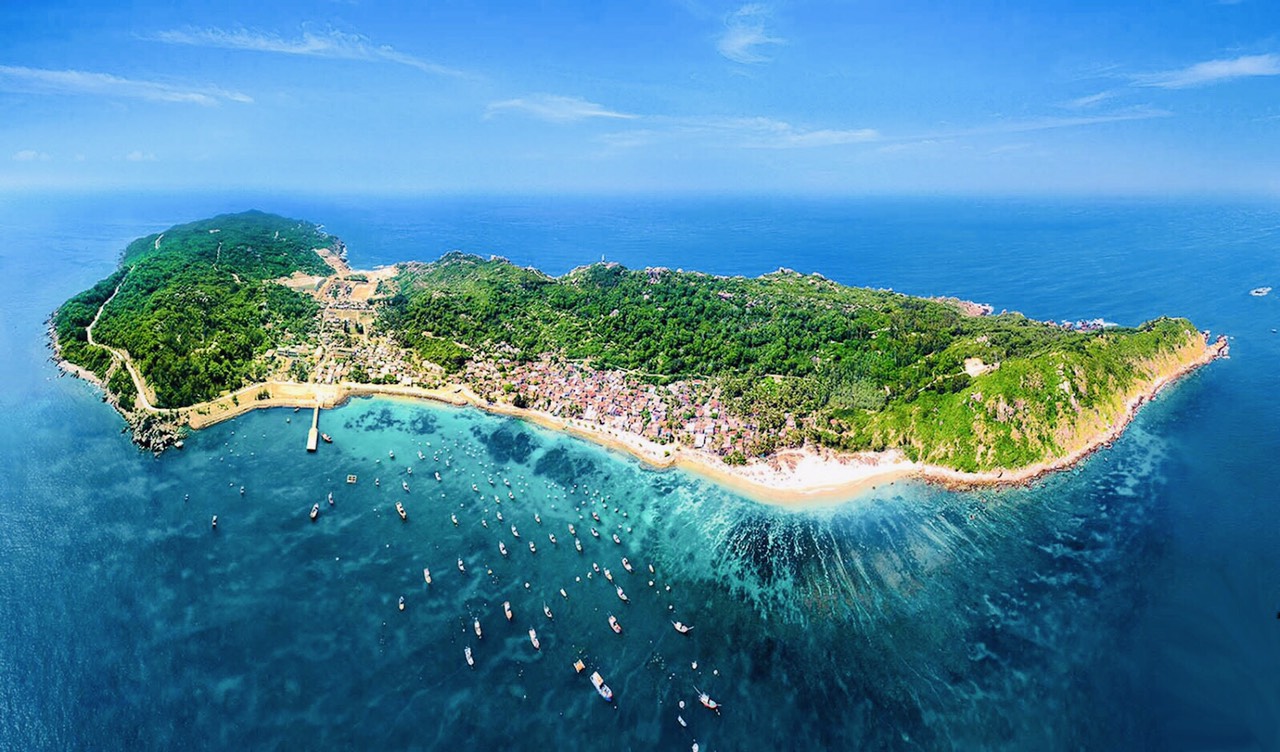 The next interesting place in the top 5 attractions in Binh Dinh that you should not miss is Cu Lao Xanh island. 
Like Eo Gio and Ky Co, the island has beautiful beaches, amazing landscapes, clear blue seawater, and lots of activities to enjoy including swimming, snorkeling, and watching coral, etc However, there are many more things to discover here.
Activities at Cu Lao Xanh island, Binh Dinh, Vietnam – Source: Quynhontourist
If you would like to diversify your trip from the sea activities, follow the paths to reveal other scenic spots.
Firstly, let's stop by the lighthouse. This work was built in the French colonial years, is 119m high. Standing from here you can enjoy the full panorama of Cu Lao Xanh island.
In addition, Thanh Nien flagpole, Gieng Tien Stream, and Wharf are also worthy of a visit.
More interestingly, this island is the homeland of a fishing village. Many Vietnamese families settle down here and mainly do fishing for a living.
It's a good idea to rent a motorbike to have a tour around the village, discover hidden corners, enjoy the sunset and treat yourself to unique photos with the locals.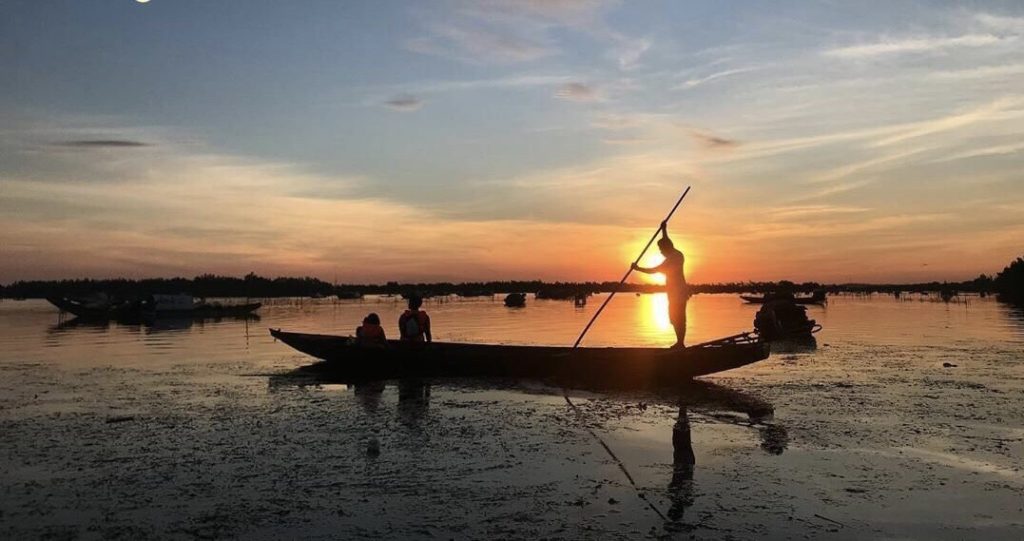 Last but not least, as a coastal village, you can also easily find fresh seafood for your meal. Oysters, sea urchin, rock crab, shrimp, squid, moon snail, seafood hotpot….all cooked in a local way, and no doubt that they are super yummy! 
I would not recommend you to stay a night at Eo Gio and Ky Co but Cu Lao Xanh island. Your trip would not be fulfilled if you miss an experience by night here. You should either rent a homestay or bring your own camp.
There's a great area for those who love camping on this island. As it is shielded by large rocks, the sea breeze here is not too strong. Therefore, you will be able to camp, light a campfire and have fun with friends and family.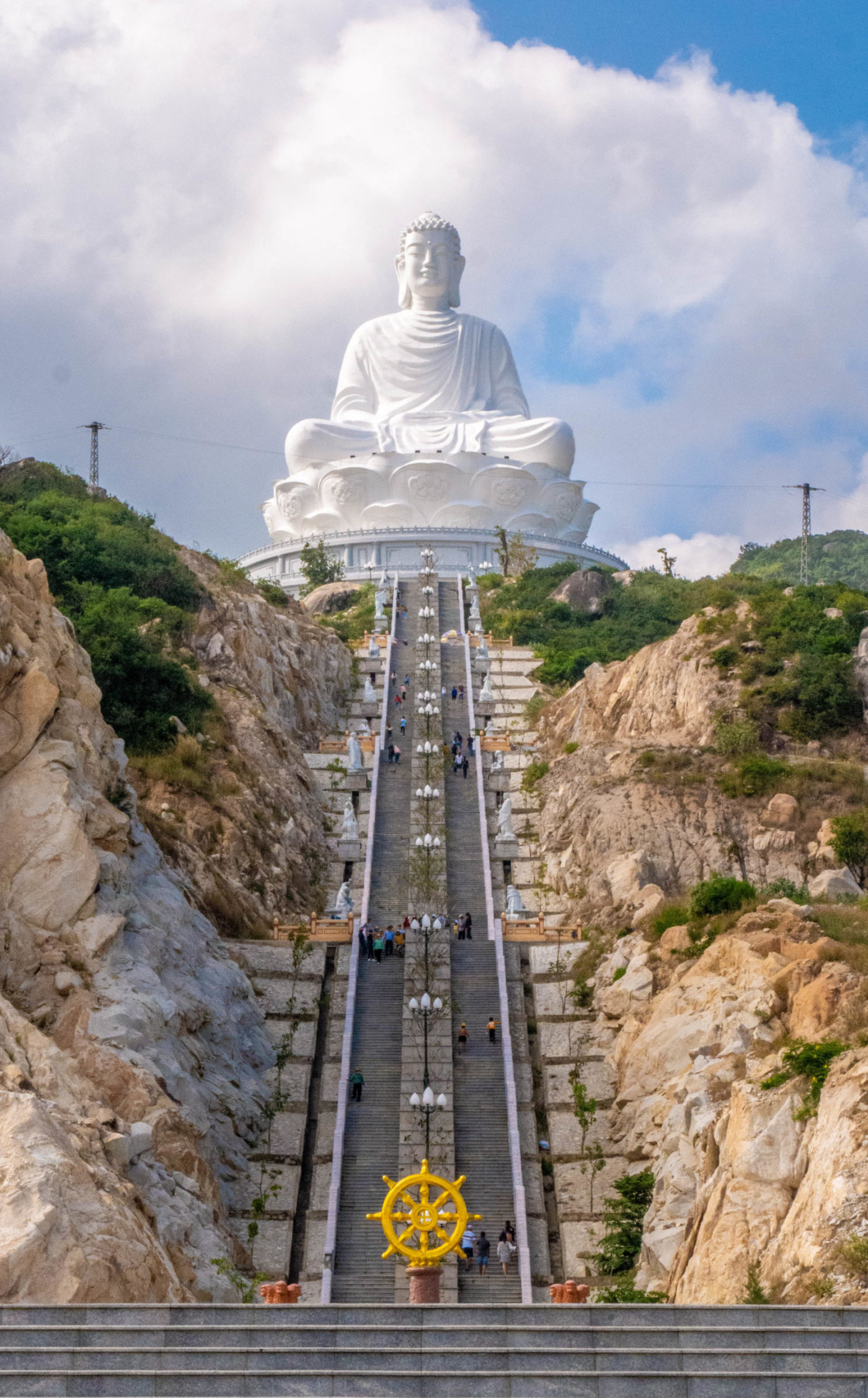 Binh Dinh not only has beautiful beaches and islands but also a land of pagodas, historical museums, and cultural towers to stop by. Ong Nui temple is a place you need to give it a try.
Also known as Linh Phong pagoda, Ong Nui is the oldest and most famous temple in Binh Dinh province. It has the largest sitting Buddha statue in Southeast Asia.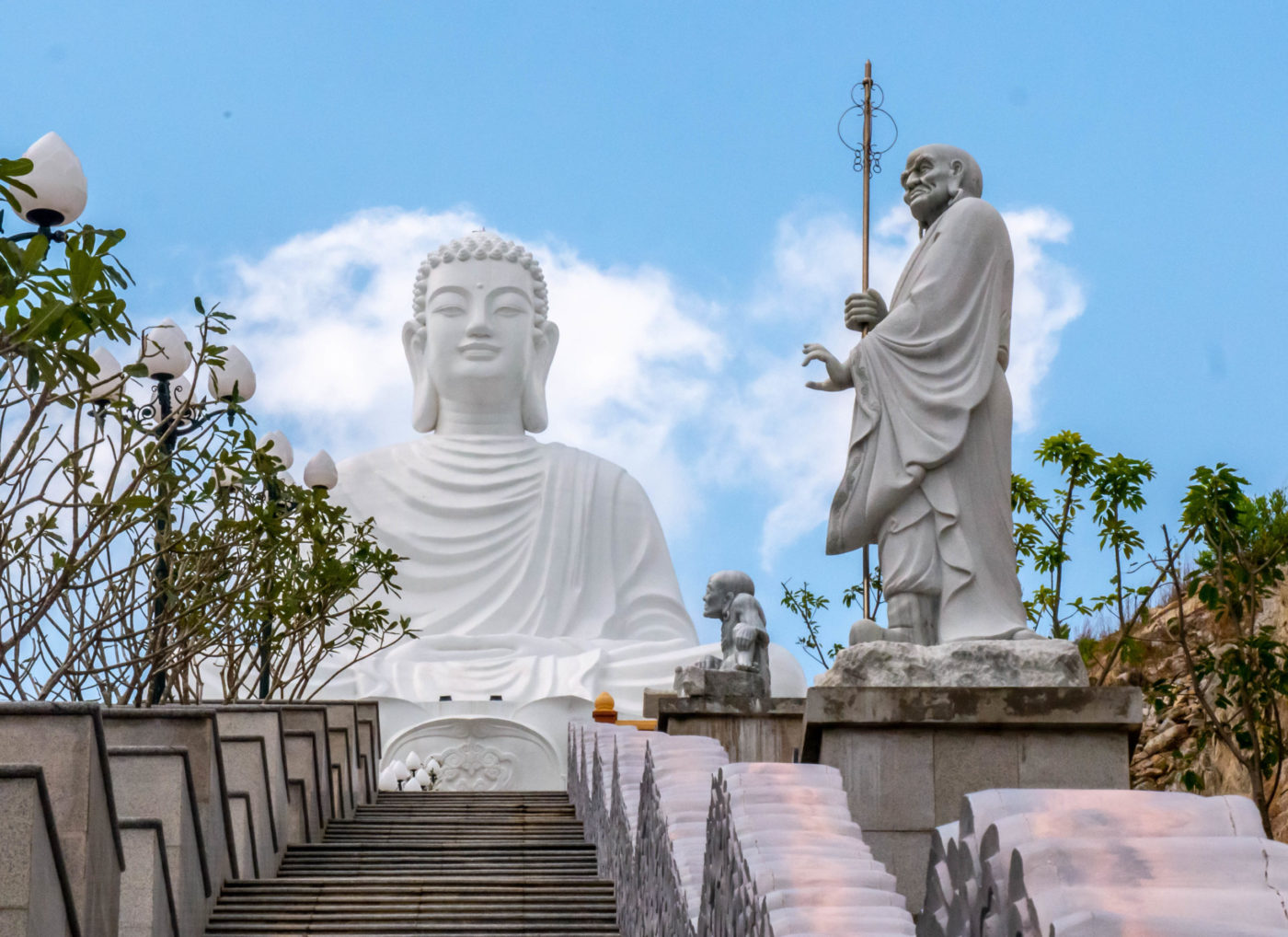 The Buddha statue is 108m high from the lotus, halfway up the mountain, at an altitude of 129 m above sea level. Its position also overlooks the East Sea and leans against the highest mountain in the Nui Ba relic complex.
To get to the statue, you need to climb about 600 steps. It seems like a heavy sport for someone but once you are there, you will never regret it.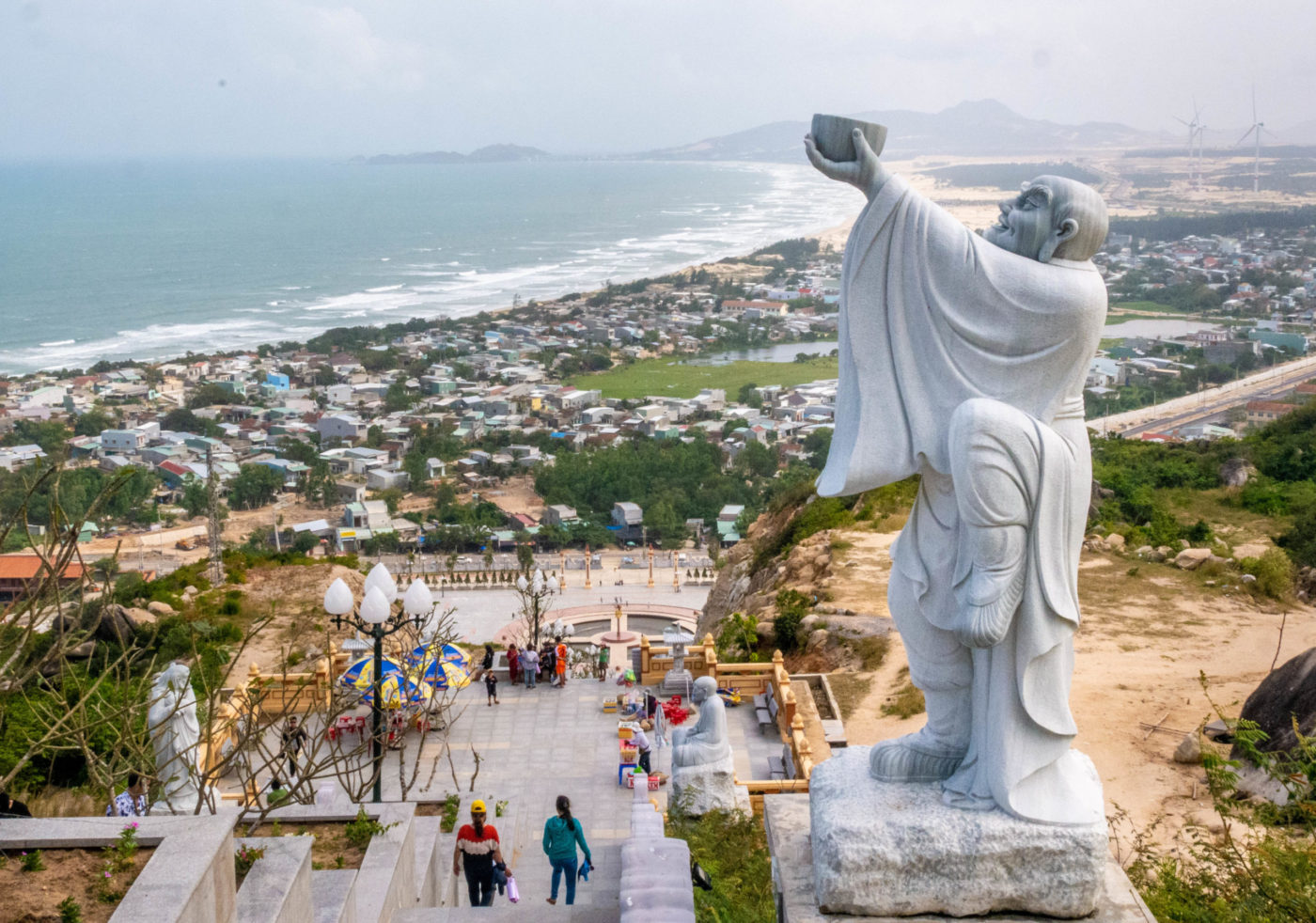 I did it so I knew how it felt. The view from here is amazing. You can not only see the Buddha statue closely but also can enjoy the beautiful sea and mountains.
If you are a big fan of spiritual tourism, this pagoda would be the ideal place to discover. From the 24th to the 25th of the first lunar month, there is a big festival taking place at Ong Nui temple. People come here to worship and to pray for health and fortune.
Locals also come here a lot in the lunar new year. My little sister and her friends often cycle down there to pray for a good new year even though our house is more than 20 km from the temple.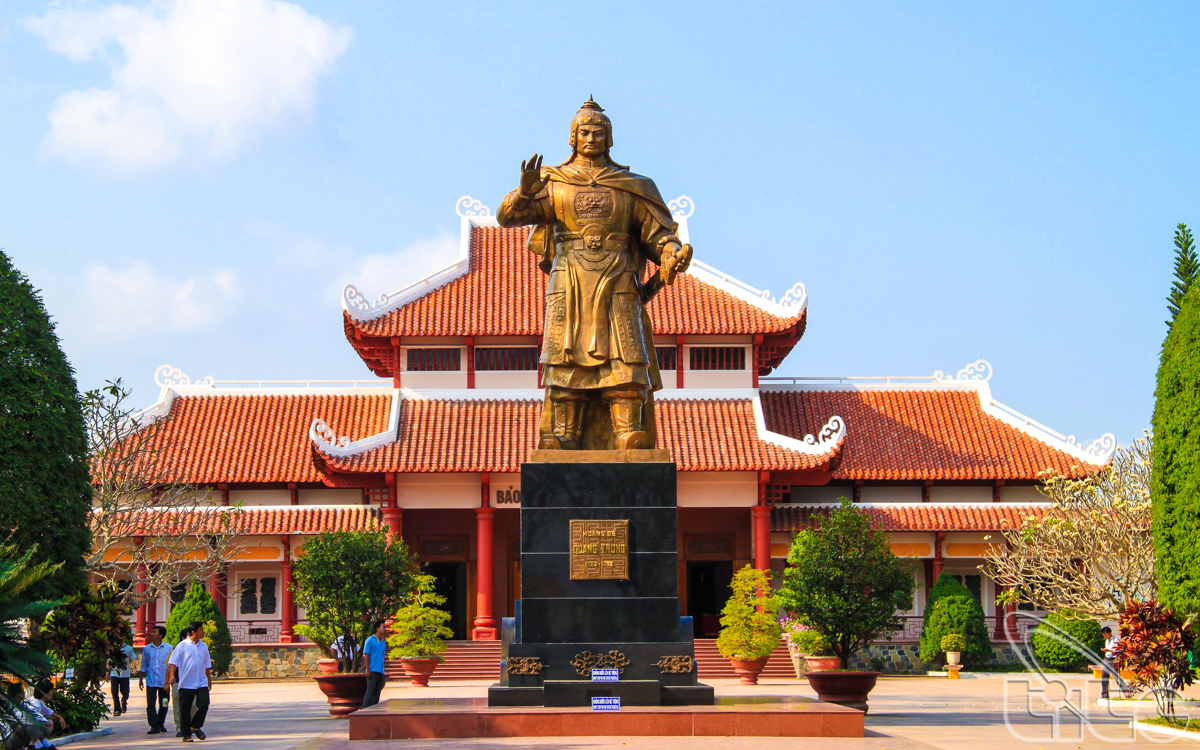 If you are a historical researcher or a big fan of discovering Vietnam's history, Quang Trung museum is a must-visit place. This is one of the museums that attract a large number of domestic and foreign tourists in Vietnam.
The museum is where to worship and memorialize the hero Nguyen Hue, preserving historical artifacts related to the Tay Son rebellion, the vestiges of three Tay Son brothers: Nguyen Hue, Nguyen Nhac, Nguyen Lu.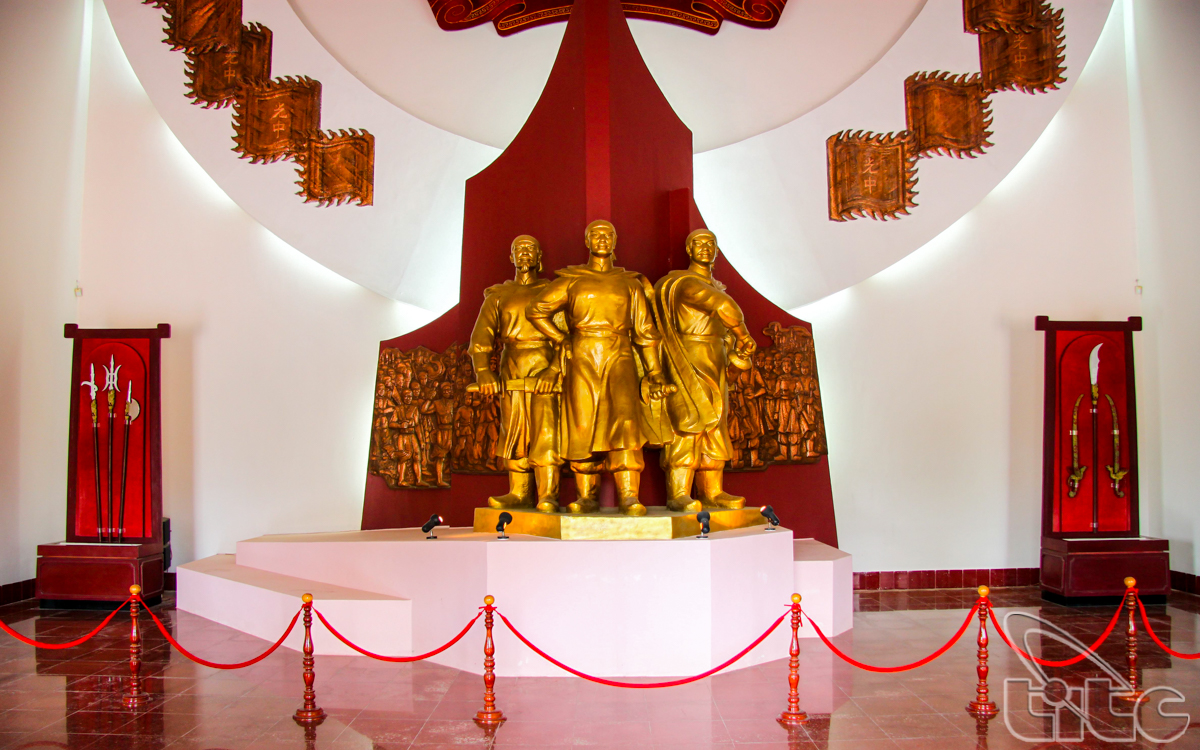 A QUICK EXPLANATION:
For those who don't know Quang Trung – Nguyen Hue, he was one of the most successful military commanders in Vietnam's history.
Nguyen Hue and his brothers were the leaders of the Tay Son rebellion. As rebels, they conquered Vietnam, overthrowing the imperial Later Lê dynasty and the two rival feudal houses of the Nguyễn in the south and the Trịnh in the north.
If you are curious to learn more the story, let me know in the comment below. I would write an article about it.
To learn about the cultural and historical values of the heroic Tay Son insurgent army, getting to know about the origin and meaning of the artifacts, you also have a chance to experience two special shows: Tay Son martial music & Tay Son uprising movie.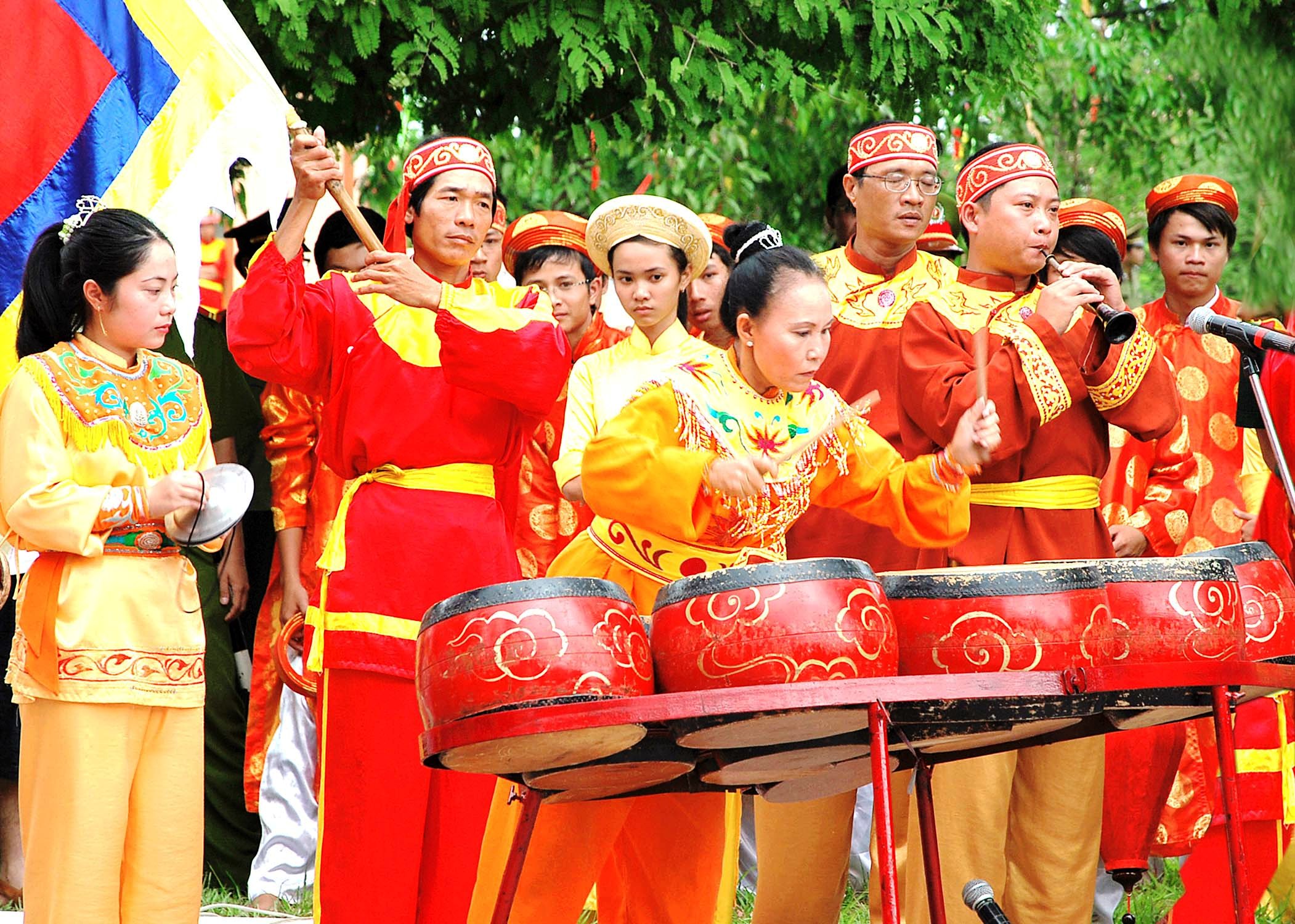 Originated from the Tay Son peasant movement at the end of the 18th century, Tay Son martial music is a unique cultural feature of the land of Binh Dinh.
This is a type of martial music to stimulate the morale of the three troops in practice as well as in battle fights.
According to legend, Tay Son martial music is also one of the important factors creating the fast march and glorious victory of King Quang Trung in the war against foreign invaders.
It is a short film about the historical beauty of the hero Quang Trung – Nguyen Hue. It's a good snapshot for you to have a big picture of the Tay Son uprising
INTERESTING FACT:
Binh Dinh is also known as the hometown of Vietnamese traditional martial arts. That's why this place is associated with martial arts. People often pass each other the song:
"Ai về Bình Định mà coi
Con gái Bình Định cầm roi lên quyền"
It can be literally translated as:
"Who's going to Binh Dinh to see
Binh Dinh's girls hold the whip to perform martial arts"
When I first entered Saigon, many people asked me if I knew martial arts? Actually, not everyone born and raised in Binh Dinh knows martial arts. Today, only certain places like Tay Son still maintain traditional martial arts villages.
Binh Dinh is not only awesome thanks to its untouched nature and beautiful landscapes but also its rich culture and history. I have been visiting many places. I would say Binh Dinh is one of the best destinations to discover.
Apart from the top 5 attractions in Binh Dinh above, there are still many other great places that you should give them a try such as Twins Towers, Banh It Tower,  Bai Xep beach, Hon Kho island, Long Khanh pagoda, etc. They won't disappoint you.
There's no doubt that the beauty of nature, fresh seafood, friendly people, historical museums, and cultural pagodas are beyond wonderful. However, Binh Dinh needs to invest more in services at these places to make them even better and more memorable.
Last but not least, this is just a part of the mysterious Binh Dinh. Another article about other aspects of this beautiful land such as food, culture, tradition, drinks, etc will be released soon. Stay tuned!
I hope you learn something new about my hometown. I hope you enjoy reading my blog and don't hesitate to ask me if you have any questions.
If you would like to stay updated with the latest content, ensure to subscribe to the AMA Vietnam blog today 🙂