Ao Dai is a symbol of Vietnamese culture and traditions. If you are curious about our traditional clothing and would like to discover more, this article is for you.
Ao Dai Vietnam – Source: miky
Ao Dai is a Vietnamese national garment and being honored to be worn on formal and special occasions. It remains a vital presence throughout thousand of years in Vietnamese culture and traditions.
Áo Dài is the name of Ao Dai with a full accent in Vietnamese. It can be literally translated as "Long Shirt", but my advice is to just call it "Ao Dai" as it already had its own reputation under the original name.
If you ask a random Vietnamese, I am pretty sure that each and every one of them knows what Ao Dai is and how much they love it.
Ao Dai is designed for whom?
Ao Dai is nowadays used by men, women, children, the youth, the old, basically, it's for everyone. Even if you are a foreigner, you are more than welcome to wear and experience it.
However, as Ao Dai originally represents the traditional beauty of Vietnamese women, it is often found on ladies rather than gentlemen.
Why is Ao Dai an interesting creation?
If we had a quick comparison between the Ao Dai and the other types of clothes we usually wear, Ao Dai Vietnam is unique in terms of design and sophistication.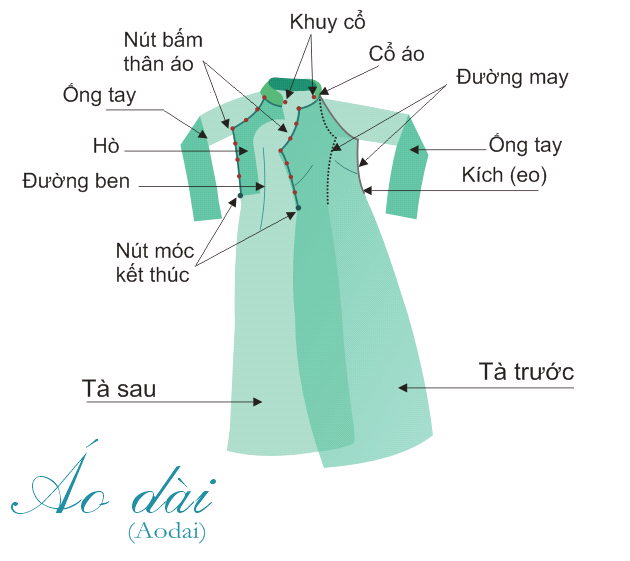 Translation:
Nút bấm thân áo:

hooks used as fasteners and holes

Ống tay:

sleeve

Đường ben:

inside seam

Nút móc kết thúc:

main hook and hole

Khuy cổ:

collar button

Cổ áo:

collar

Đường may:

seam

Kích (eo):

waist

Tà sau:

back flap

Tà trước:

front flap
As you can see on the diagram, there are 2 totally different parts that make up an Ao Dai Vietnam. If the top part is very meticulously designed to get tight to the body especially the chest and waist, the two lower flaps are flied freely.
This contrasting combination has created a special attraction for Ao Dai which is both discreet and generous. It enhances the beauty of Vietnamese women's curves, helping them to be confident, elegant, and sexy in their outfits.
That's why people often said that Ao Dai covers everything but hides nothing. Our body is an art and Ao Dai helps this natural art to be seen perfectly.
That is why it can be said that Ao Dai is a work of art by tailors. Each needle thread on the Vietnamese traditional costume is the result of hard-working, passion, and love.
When do the Vietnamese wear Ao Dai?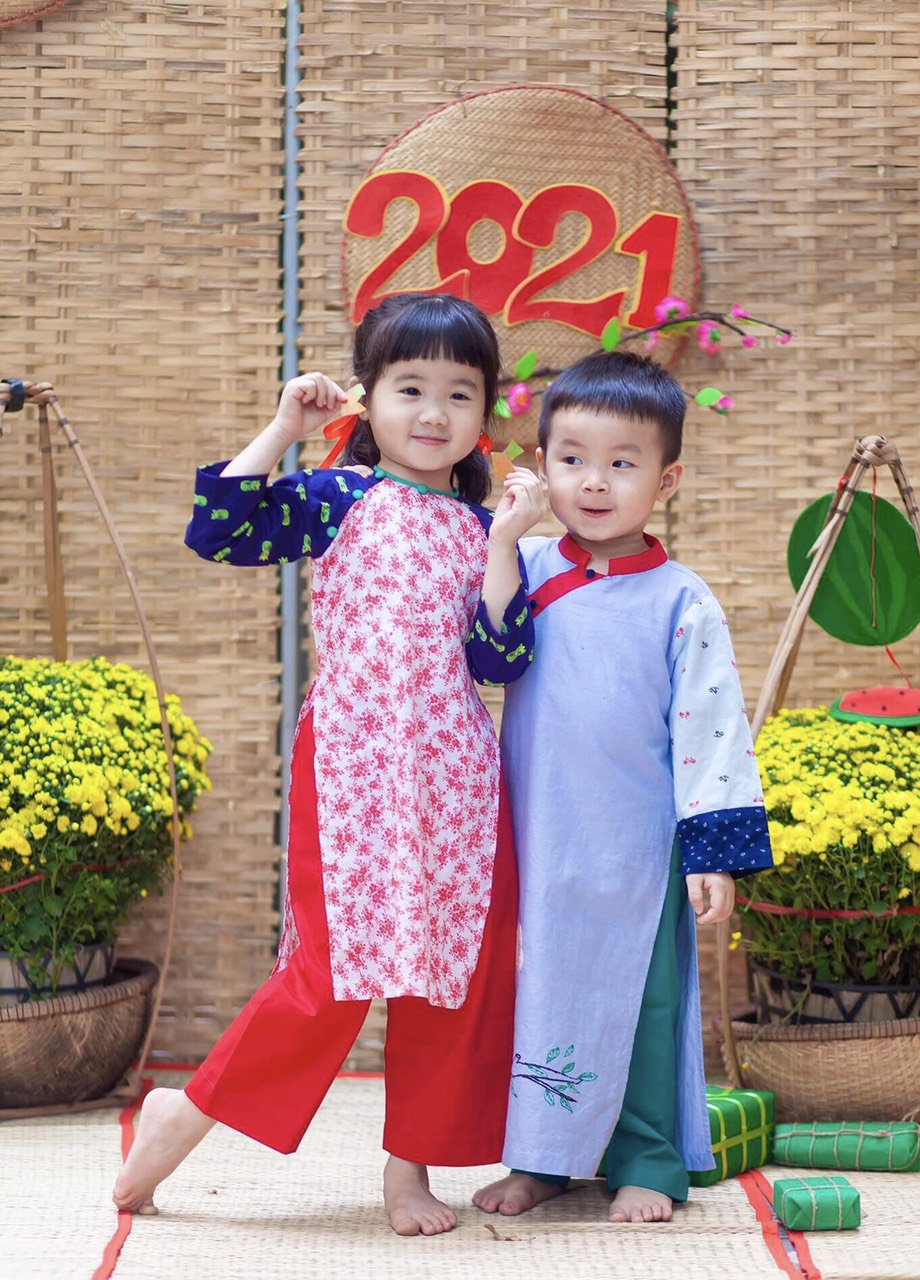 Ao Dai is worn in important milestones in life such as engagement events and wedding celebrations. In a Vietnamese wedding, the bride often wears Ao Dai in red, the groom is either in a vest or in an Ao Dai for men.
In the traditional Tet holiday, you can also see Ao Dai everywhere from rural to urban and from North to South in Vietnam. The Vietnamese wear it to celebrate Lunar New Year, to remind us of our traditional beauty, and to cheer for a lucky year ahead.
 Furthermore, in some international summits, Vietnamese women often choose Ao Dai as their outfit to represent our Vietnamese image. Wearing an Ao Dai to meet people from over the world makes us feel proud of being a Vietnamese.
In addition, as a Vietnamese traditional clothing, it's no surprise that Ao Dai is chosen to wear in international beauty contests such as Miss Universe. Whenever we see it on the stage, we just want to shout out loud to cheer "Vietnam".
More interestingly, if you have ever traveled with Vietnam Airlines, you can definitely see all female flight attendants wear Ao Dai as their uniform. There are some banks in Vietnam that also choose Ao Dai for their staff uniforms such as Agribank, TPBank.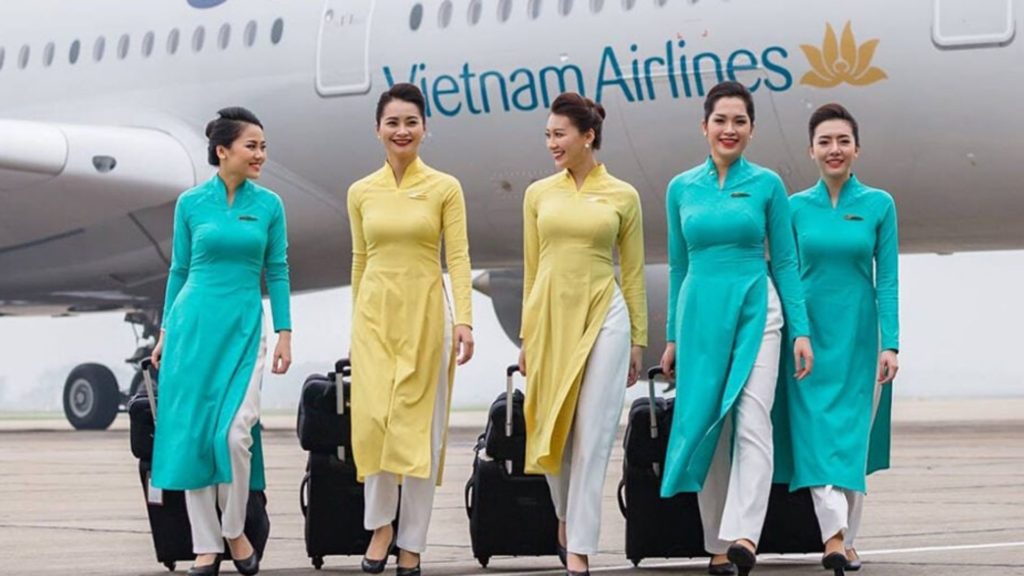 These examples just show how much we respect, appreciate, and love Ao Dai Vietnam.
Last but not least, to encourage the youth to remember the tradition, some high schools remain Ao Dai as a uniform. Personally, thanks to wearing this traditional clothing in high school, I became more feminine. Before, I was like a boy 🙂
Can you buy an Ao Dai as a souvenir?
Yes, definitely you can. But "free size" is not a term for Ao Dai as it needs to be tailor-made.
In order to sew a beautiful Ao Dai, the tailor have to carefully measure every detail needed on the wearer's body. No matter what size you are, this traditional clothing should fit your body perfectly as it is meant for you and made just for you.
That is the reason why Ao Dai is usually made according to specific requirements and personal orders.
Even though nowadays you can find a few shops selling this dress massively in different styles, it's not easy to find one that can suits your body well. 
Normally the boutiques will offer free fixing services to make Ao Dai fit your body if it's too small or too big for you. But as you already knew, something that's repaired would be less natural and less beautiful than the original one. However, you can try it. It's not the best but acceptable.
If you would like to have a real Ao Dai of your size, don't hesitate to meet a professional tailor. In my opinion, it's a better choice.
Normally it takes 2 weeks to a month to make an Ao Dai. However, there are some Ao Dai shops where you can buy a tailored one within 6-8 hours with a small additional fee.
You can find these shops in many cities in Vietnam, especially in Hoi An, Hue, Da Nang, Ha Noi, and Ho Chi Minh city.
If you want to have an Ao Dai Vietnam as a great souvenir to bring back home, I would recommend you to go to shops at the beginning days of the trip, asking for an Ao Dai. One or two days later, you can come and pick it up.
I would say it is one of the amazing treasures you collect from Vietnam.
Ao Dai is far beyond a traditional dress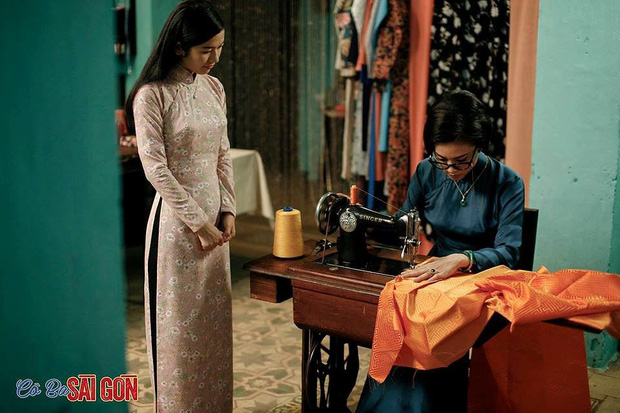 Naturally, Ao Dai Vietnam has become an integral part of our tradition and culture. It's as simple as when I packed my luggage to France, an indispensable item that was an Ao Dai, and so did my friends. No one told anyone.
Ao Dai is something important to Vietnamese people, especially women. As it is worn on special occasions and important milestones in our life, Ao Dai is like a life's proof to remind us back to who we were.
Ao Dai therefore is a rich record filled with memories and nostalgia about the years of life. There are some people who kept their Ao Dai for the rest of their lives to tell their children about their golden youth, how they got married, how their first love began, how their high school time went, etc.
Especially, there are also mothers who craft a homemade Ao Dai for their daughters on the wedding day as a gift. Maybe the Ao Dai is not perfectly beautiful as a professional tailor sew, but it's perfectly a masterpiece of family love and connection.
In addition, Ao Dai has been inspiring many fashion designers to come up with amazing Ao Dai collections being performed in fashion shows.
More importantly, this Vietnamese traditional costume is special not only to the wears but the tailors. There have been families that have followed the traditional Ao Dai sewing from generation to generation.
They take care of each seam and maintain the traditional beauty of Vietnamese Ao dai. There are tailors who have lived, loved, and accompanied this special clothing all their lives.
There's a famous Vietnamese movie talking about Ao Dai tailors named "Cô Ba Sài Gòn" (The tailor). Besides telling about the traditional values and passion associated with Ao Dai Vietnam, the film also reflects a magnificent Saigon before 1975. I highly recommend you to watch it.
"Cô Ba Sài Gòn" (The tailor) movie trailer
When I was a child, I've already seen my mother and sisters wearing Ao Dai on the Tet holiday and some important events. Until I went to high school, I started wearing a white Ao Dai as a uniform.
Back then, frankly, I didn't like wearing Ao Dai at all as it's not as comfortable as t-shirts and jeans. I was like a boy who loved to play football and action games. It's obvious that I was not suitable for being gentle and elegant in a traditional Ao Dai.
But surprisingly, the more I grow, the more I love wearing Ao Dai.
I realized that Ao Dai Vietnam is not something that I can immediately fall in love with at the first sight. It is something special for someone who is patient enough, who is curious enough, who is mature enough to feel it and to be able to start loving it.
When I study abroad far away from Vietnam, the image of Ao Dai even becomes more meaningful and beautiful. It reminds me a lot of my home country, our authentic traditions, culture as well as my family and friends.
Hold in hand two sets of Ao Dai now in France is enough to show you how much I love it 🙂
I hope that this article brings you some interesting facts and insights about the Vietnamese traditional costume, Ao Dai.
If you are interested in discovering Vietnamese culture and traditions, Ao Dai Vietnam would be a good start. I am very curious if you like our traditional dress and if you want to try it once?
Feel free to share with me your thoughts and don't hesitate to ask me if you have any questions. Another article in the Vietnamese culture and traditions series will be published soon. So, stay tuned!
If you would like to stay updated with the latest content, ensure to subscribe to the AMA Vietnam blog today 🙂
You also might be interested​