Beer is one of the most favorite alcohols in Vietnam. A fun fact is that we often drop some ice cubes in the glass before drinking.
A study has been made on 682 beer drinkers in Vietnam, revealing that 75% of them regularly have ice cubes in their beer. Personally, I have to admit that I am one of them. And we have good reasons to do so.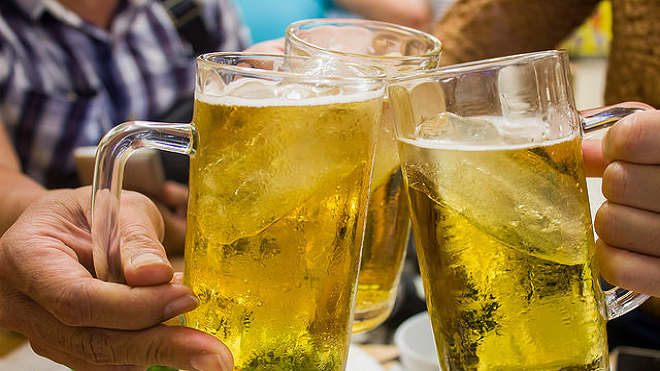 As you might know, Vietnam is a tropical country with temperatures constantly remaining very high, from 25 to 40ºC.
With that in mind, it's really not surprising that we want to keep our drinks fresh. There is actually a wide range of beverages that the Vietnamese often enjoy with ice such as iced coffee, iced tea, iced sugarcane juice, etc.
And beer is no exception!
Of course, we have many fridges to do the mission of keeping beer cool for drinkers. However, when faced with the high heat, beers are not strong enough to keep themselves fresh all the time, once out of the fridge.
Because of that, ice is always coming with beer as a best friend, helping the beer remain cool and tasty on the long run.
Thus, under hot weather, a glass of fresh beer with ice is a perfect treat! It takes away the annoying heat of the sun and satisfies all of your senses.
2. To make beer easier to drink
Some beers in Vietnam are bitter. Then imagine that you are drinking a warm and bitter beer in a hot summer!… It's not a pleasant picture to draw.
This is why many people put ice in beer in Vietnam, in order to help decrease its bitterness and make it easier to drink.
Maybe it doesn't sound logical to you: How can putting ice in beer (meaning more water) make it taste better? Actually, if you're a passionate beer drinker, you could even think that we don't respect the real art of drinking beer by doing so.
In my opinion, this argument isn't fully right or wrong. I find it's similar to the way we add sugar to the coffee. Even though sugar can affect the original taste of coffee, we cannot deny a balanced and delicious treat that sugar brought to this drink.
In addition, as mentioned above, ice helps beer stay cooler and easier to drink, thus tastier and more pleasure to enjoy it.
Still, at the end of the day, it's all about the drinking culture and habit in different countries. Either way, it's always good to know the difference and be worth discovering something new.
4. To stay longer in the game
Most Vietnamese beers like Saigon, Tiger or 333 have an alcohol content average of 5%. If we compare with some beers that are sold in France such as Leffe, 1664, 8.6, Grimbergen, Rince-Cochon, beers in Vietnam are lighter.
Although our beers are already quite soft, we also want to make them even softer. Why?
The first thing you should have in mind is that many Vietnamese people love "nhậu", which means having fun by drinking beer with friends (yes, we have a word for that).
And here is a unique drinking culture: we cheer "1-2-3 dô" (which can be translated as 1-2-3 drink) before every time we take a sip of beer, and everybody should do the same.
The more often and the louder we cheer, the better the party is.
That habit actually makes us cheer and drink a lot! It is why adding ice to the beer helps us to drink smaller quantities of alcohol, even if we feel like we're drinking a lot of it.
Accordingly, it allows us to stay longer with our buddies, and to enjoy the party to the end.
5. To stay safe after the party
As we haven't had a popular public transportation such as metro system everywhere, almost all of us use a motorbike for our movement. And, we all know that it's never a good idea to drive home while drunk.
That could explain why we drink beer with some ice, just a way to make the post party easier, and we are awaken enough to be home safe.
Even if it could sound like a tactic to drink beer without being drunk, as long as we have fun with friends and stay safe, putting some ice in beer is not a big deal.
6. A typical way of drinking in Vietnam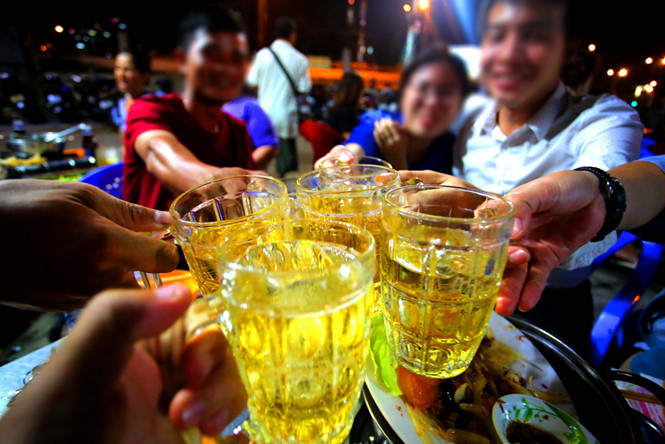 Sometimes, you don't even need a reason or an explanation for what you do. In our case, putting ice in beer in Vietnam just became part of our drinking culture, and we don't even ask ourselves why.
When I was living in Vietnam, I often drank beer with some ice. It's fresher, cooler, and still has a nice taste.
Another thing is that I cannot drink a lot of alcohol. Believe me or not but only one bottle of beer can knock me out! Iced beer became a very good friend of mine for that particular reason.
However since I came to France, I don't have the habit of putting some ice in beer like in Vietnam anymore. It makes sense as Lille is already too cold and I don't want to be a weirdo 🙂
Adding ice to beer maybe is not a good idea for someone who wants to enjoy 100% of the original taste. On the other hand, it is a great way for those who cannot drink a lot like me, but still want to enjoy a light taste of beer and stay longer with their friends.
Whether you are a beer drinker or not, I am curious to know: what do you think about the fact that people put ice in beer in Vietnam? Would you be willing to try it? Feel free to share your comments.
If you have any questions, don't hesitate to ask me. Another article in the Vietnamese drink series will be published soon. Stay tuned!
If you would like to stay updated with the latest content, ensure to subscribe to the AMA Vietnam blog today 🙂
You also might be interested​