Music plays an important role in our life. It can even be part of one's life and source of inspiration.
As music reflects our feelings, our pain, our happiness, our way of life, and whatever we want to convey, it's a good idea to learn a new culture through its music.
In my first article about music in Vietnam, I would like to write about Vietnamese rap. While rap is already popular in other parts of the world, this music just became a phenomenon recently in Vietnam. 
Keep reading to discover interesting facts of Vietnamese rap and why this music genre is so popular in my country recently.
Accordingly, it could help you get to know how Vietnamese rap songs sound like and explore other aspects of life in Vietnam.
1. The long root of Vietnamese rap
To begin with, let's have a look at when and where does this genre of Vietnamese music come from. According to Rap Việt Underground and vn2rap, the very first Vietnamese rap song was recorded in the US in 1997 by Khanh Nho and Thai Viet G.
Its name is "Vietnamese Gang" where Thai Viet rapped in English and Khanh Nho rapped in Vietnamese. This song is the first brick to mark the birth of Vietnamese rap. 
Then, over time, more and more Vietnamese people living abroad started composing and recording rap. They established a club called Viet Rapper (VR) for those who have interests in this music genre. From here, Vietnamese rap began to develop, outside of Vietnam.
2. How did rap music establish itself in Vietnam?
Before 2002, rap wasn't in Vietnam. Thanks to Xlim, this music started to have a good presence in our country.
In 2002, Xlim created a club named Da Rap Club Hanoi (commonly known as Rap Club or RC), as a hub to share information about international rap music for rap lovers.
From 2006 to 2008, Vietnamese rap developed pretty well. There were more young people joining rap and the hip-hop culture. Rap songs were being increasingly heard and recognized in Vietnam.
While a few rappers were successful enough to play shows to large audiences, the majority of the artists still decided to stay underground.
3. Internet brings Vietnamese rap closer to public
With the widespread development of the internet, Vietnamese rap seems to have a better bridge to a massive audience.
Wowy, one of the famous rappers in Vietnam shared that in the past, it was difficult to organize rap shows. Everything now became much easier with internet, especially social media.
Rappers nowadays leverage YouTube and social media to communicate and promote their songs at a very low cost or even for free.
This has helped many artists to pursue their passion and making their dream come true. Đen Vâu is a typical success thanks to YouTube and social media.
His song "Đưa nhau đi trốn" (literally translated as Escape Together) became his first hit with more than 61+M views on youtube. Many quotes in this song have been communicated on social media and get lots of attention from the audience.

MV "Đưa nhau đi trốn" by Đen Vâu ft. Linh Cáo
4. A big change of mindset about making Vietnamese rap
Previously, Vietnamese rap music was about difficult topics on life. Most of the lyrics contained swear words, conflicts, and suffering. 
That's why there was a big stereotype about rap in Vietnam. This music was often associated with the underground world and with dark and violent content.
However, since 2010, there's been so many positive changes in Vietnamese rap that really brought a breakthrough.
New generation rappers have been bringing closer topics to rap such as family, love, passion, daily life, society, etc. JustaTee, LK, Wowy, Karik, Rhymastic, Đen Vâu are the typical pioneers to do this for Vietnamese rap.
Besides, music producers also invest more in beats and instrumentals to create high-quality and diverse songs. Audiences are more willing to open themselves to this type of music
These movements have broken barriers and really brought Vietnamese rap to the next level. With more and more people listening to this music, rap started to gain better popularity in the last 5 years.
5. The contests of rap 2020 marked the rising popularity of Vietnamese rap
With constant efforts, Vietnamese rap has gradually built a certain position in the hearts of the public. It's a slow process and it needs lots of time.
Until 2020, the contests "King of Rap" and "Rap Viet" really did make a buzz. They have clearly shown people the inner beauty of this music. It seemed like it broke the cliché of rap that has been existing for such a long time.
The shortlist of the 6 best performance of Rap Viet 2020. By the way, the first song "Chim sẻ – Dâu tây" (Sparrow – Strawberry) of the final round of Rap Viet is my favorite.
According to a study by the Asia Business Council, Rap Viet was the most-viewed program in Vietnam in 2020, reaching 2 billion views on VieON, YouTube and Facebook.
Furthermore, although newly debuted, Rap Viet received some outstanding achievements at the Dedication Music Awards 2021 such as: Producer of the Year, New Artist of the Year, and Series of Programs of the Year.
The success of this program has created a new ladder in the Vietnamese entertainment market, bringing the name of Vietnamese Rap to the light and closer to the public.
It proves that rap in Vietnam is no longer just for the underground world, it's for the youth, for the elder, students, workers, teachers, it's for everyone.
6. How's Vietnamese Rap now and what's next?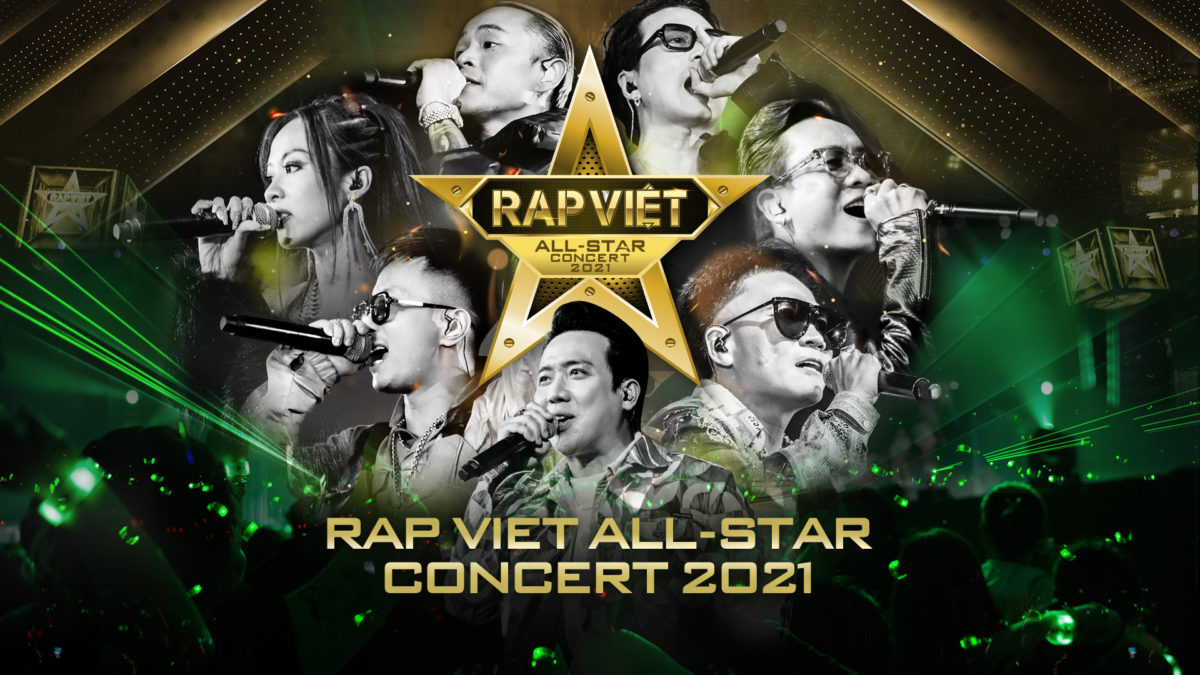 With a huge comeback in 2020, rap is now one of the most popular music genres in Vietnam. 
Following the heat of the Rap Viet program, a big concert named Rap Viet All-Star was held in April 2021 in Ho Chi Minh city with the participation of 10.000 fans. This is one of the biggest rap concert ever in Vietnam.
More recently the Rap Viet 2021 show just began its second season and officially aired from Oct 26, 2021. It has been catching lots of attention online and offline and has become trendy so far. 

In addition, many Vietnamese rap songs continuously storm at the top positions on music charts. Rap is also booming as an integral part of many advertising projects of famous brands in Vietnam.
Above all, there are more and more people who listen to, love and even try to rap. Myself is an example. Whenever I open my favorite rap song, I try to sing along. To be honest, I would rather write something about it than sing it 🙂
Rap maintains its heat now and potentially in the future in Vietnam. It's hard to say exactly if this music will stay mainstream and for how long, but one thing for sure is that the 2020 milestone was remarkable for Vietnamese rap.
7. I was not a big fan of Vietnamese rap until recently
Apart from some famous songs such as Coming Home by Diddy-Dirty Money ft. Skylar Grey, Stereo Hearts by Gym Class Heroes ft. Adam Levine, See You Again by Wiz Khalifa ft. Charlie Puth, I did not listen to rap that much, especially Vietnamese rap.
I used to think that rap in general was kind of a tough music to listen to. The melodies were rough, the lyrics were pretty aggressive. I was more with pop.
However, my sentiment with rap has been growing recently thanks to Đen Vâu, my first favorite rapper in Vietnam. He makes good music. I feel that his rap is friendly, beautiful and especially I see myself in his songs.
The next catalyst that made me love Vietnamese rap even more is the Rap Viet contest 2020. I watched all the episodes of this program. It became an interesting topic at parties and catch-ups. I even shared it with my international friends.
From that moment, my point of view about rap was changed. I have been learning more about it. I read more rappers' stories, which are very inspiring by the way.
I also started listening to rap more often, not only from Vietnamese rappers but also from Damso or Népal. Especially recently I watched a documentary named "Orelsan Montre Jamais Ça À Personne" about Orelsan, one of the most famous rappers in France. 
I really like the whole story as well as his music. Obviously, I began listening to many of his songs, his latest album "Civilisation", and I will definitely participate in his concert next year 🙂
Rap did refresh the menu of Vietnamese music. It has been improving the music quality in Vietnam in the context of international cultural exchanges.
Even though rap has already been in Vietnam for 19 years, 2020 was the first time this music became mainstream. It has been remaining at an important position in the entertainment life of many young people.
With this article, I hope that you get to know more about Vietnamese rap. I'm wondering if you like it. Do not hesitate to let me know in the comments.
If you are curious to know who is the most famous rapper in Vietnam, stay tuned! An article about this topic will be published soon.
If you would like to stay updated with the latest content, ensure to subscribe to the AMA Vietnam blog today 🙂
You also might be interested​